The group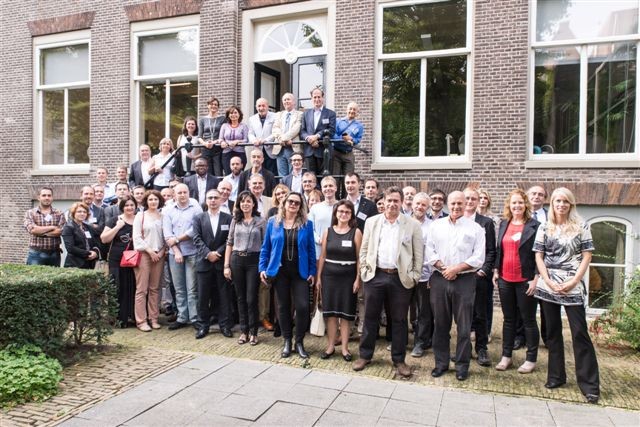 The following investigators and centers are involved the EULAST study
CC = Country Coordinator
PI = Principal Investigator
Austria
Alex Hofer (CC Austria and PI of Innsbruck); Department of Biological Psychiatry, Innsbruck University Clinics
Georg Psota (PI of Vienna); Psychosoziale Dienste in Wien
Belgium
Jurjen Luykx (CC Belgium and PI of Antwerp); Ziekenhuis Netwerk Antwerpen (ZNA), afdeling psychiatrie, locatie Stuivenberg
Bernhard Sabbe (PI of Duffel); Psychiatric Hospital Duffel
Bulgaria
Valentin Hranov (CC Bulgaria); University Hospital of Neurology and Psychiatry 'St. Naum'
Luchezar Hranov (PI of Sofia); University Hospital of Neurology and Psychiatry 'St. Naum'
Czech Republic
Richard Kohler  (CC Czech republic and PI of Hradec Králové); Psychiatrická klinika LF UK, Fakultní nemocnice, Hradec Králové, Czech Republic
Libor Ustohal (PI of Brno); Department of Pharmacy, University Hospital Brno, Czech Republic
Pavel Mohr (PI of Prague); National Institute of Mental Health, Klecany, Czech Republic
Denmark
Brian Broberg (CC Denmark); Center for Neuropsychiatric Research
Birthe Glenthoej (PI of Glostrup); Center for Neuropsychiatric Research
Germany
Stefan Leucht (CC Germany and PI of Munich); Technische Universität München (TUM)
Alkomiet Hasan (PI of Munich); Department of Psychiatry and Psychotherapy, Ludwig-Maximilian University
Dan Rujescu (PI of Halle); Klinik für Psychiatrie, Psychotherapie und Psychosomatik der Martin-Luther-Universität
Joachim Cordes (PI of Düsseldorf); Klinik und Poliklinik für Psychiatrie und Psychotherapie der Heinrich-Heine-Universität Düsseldorf.
Greece
Nikos Stefanis (CC Greece and PI of Athens); National and Kapodistrian University of Athens Medical School, Eginition Hospital.
Hungary
Istvan Bitter (CC Hungary and PI of Budapest); Department of Psychiatry and Psychotherapy, Semmelweis University.
Israel
Mark Weiser (CC Israel and PI of Tel-Hashomer); Sheba Medical Centre Department of Psychiatry
Marnina Swartz (PI of Bat-Yam); Abravanel Mental Health Center
Marina Kupchik (PI of Be'er Yaakov); Be'er-Ness Mental Health Center
Alexander Teitelbaum (PI of Kfar Shaul); The Jerusalem Mental Health Center
Igor Oyffe (PI of Pardesia); Lev-Hasharon Medical Center for Mental Health
Avi Valevski (PI of Petach-Tikva); Geha Medical Health Center
Italy
Silvana Galderisi (CC Italy and PI of Naples); Department of Psychiatry, University of Naples SUN
Alessandro Rossi (PI of L'Aquila); Università degli Studi del l'Aquila.
Paola Rocca (PI Turin); Università degli Studi di Torino. Dipartimento di Neuroscienze. Sezione di Psichiatriavia
The Netherlands
René S Kahn  (CC The Netherlands and PI of Utrecht); University Medical Center Utrecht
Norway
Erik Johnsen (CC Norway and PI of Bergen); Helse Bergen HF Haukeland University Hospital
Petros Drosos (PI of Stavanger); Stavanger University Hospital
Solveig Klaebo Reitan (PI of Trondheim); St Olavs Hospital avd Østmarka
Poland
Marek Jarema (CC Poland and PI of Warsaw) Instytut psychiatrii i neurologii
Marcin Olajossy (PI of Lublin); II Klinika Psychiatrii Uniwersytet Medyczny w Lublinie
Romania
Covance (CC Romania);
Delia Marina Podea (PI of Arad); Spitalul Clinic Judetean de Urgenta Arad - Clinica de Psihiatrie
Cristinel Stefanescu (PI of Piatra Neamt); Spitalul de Psihiatrie
Adela Ciobanu (PI of Bucharest); Spitalul Alexandru Obregia
Maria Sandulescu (PI of Bucharest); Spitalul de Psihiatrie
Monica Mosescu (PI of Buzau); Clinical hospital of Psychiatry and Safety measures "SAPOCA"
Aurel Nirestean (PI of Targu Mures); Sitalul Clinic Judetean Mures, Sectia Clinica Psihiatrie II
 

Spain
Covadonga Martinez (CC Spain and PI of Madrid); Servicio Madrileño de Salud (SERMAS)
Julio Bobes (PI of Oviedo); Facultad de Medicina C/ Julián Clavería
Miquel Bernardo (PI of Barcelona); Hospital Clínic de Barcelona. Unidad de Esquizofrenia
Benedico Crespo Facorro (PI of Santander); Hospital Universitario "Marqués de Valdecilla", Universidad de Cantabria
United Kingdom
Thomas Barnes (CC UK); Imperial College, Centre for Mental Health, Faculty of Medicine
George Umoh (PI of Kent); Edmund Ward, St Martins Hospital.
Paola Dazzan (PI of London); Kings College, Centre for Mental Health, Faculty of Medicine,
Sofia Pappa (PI of London); West London Mental Health Trust. East Recovery Team.
Peter Haddad (PI of Manchester); Greater Manchester West Mental Health NHS Foundation Trust.
John Geddes (PI of Oxford); Oxford Health NHS Foundation Trust
Ramin Nilforooshan (PI of Surrey and Borders); Surrey and Borders Partnership NHS Foundation Trust
Neil Mayfield (PI of Tees Esk and Wear Valleys); Tees Esk and Wear Valleys NHS Foundation Trust
Patrick Keown (PI of Northumberland, Tyne and Wear); Northumberland, Tyne and Wear NHS Foundation Trust
Executive Committee
W. Wolfgang Fleischhacker, co-PI, Austria
René S. Kahn, co-PI, The Netherlands
Michael Davidson, co-PI, Israel
Central study team
René S. Kahn, co-PI, The Netherlands
W. Wolfgang Fleischhacker, co-PI, Austria
Michael Davidson, co-PI, Israel
Iris Sommer, trial coordinator, The Netherlands
Inge Winter, project manager, The Netherlands
Leonie Willebrands-Faas, project manager, The Netherlands
Cynthia Pfeifer, Clinical Research Associate, The Netherlands
Lyliana Nasib, Clinical Research Associate, The Netherlands
Paula Ywema, Clinical Research Associate, The Netherlands
Elianne Huijsman, Clinical Research Associate, The Netherlands